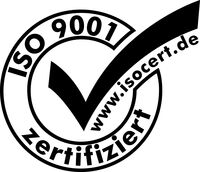 DIN EN ISO 9001:2015
Die DIN EN ISO 9001:2015, kurz ISO 9001 (ISO = Internation Organization of Standardization) is an international quality management standard which defines a series of minimum requirements for a quality management system in a company in order to be able to meet the generally valid expectations of customers and authorities regarding quality. An essential component of this process-oriented standard is the establishment of a continuous improvement process (CIP) to improve customer satisfaction.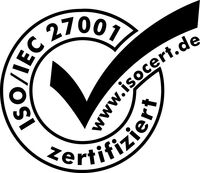 DIN ISO/IEC 27001:2017
DIN ISO/IEC 27001:2017, kurz ISO 27001 (ISO = Internation Organization of Standardization) is a globally recognized standard for the evaluation of the security of information and IT environments. It defines the requirements for the introduction, implementation, monitoring and improvement of an effective information security management system (ISMS).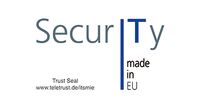 TeleTrusT – Bundesverband IT-Sicherheit e.V.
TeleTrusT is a competence network, that benefits from the broad membership and partner organisations from the fields of industry, administration, consulting and science. Since IT security and data protection are our top priority, we are happy to support this association.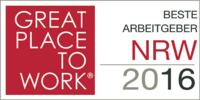 Great Place To Work – Beste Arbeitgeber NRW
North Rhine-Westphalia is the strongest industrial region in Europe and a top location for German industry. International competition, technological change and demographic developments are constantly bringing new challenges. Quality, flexibility and innovation are of particular importance in this context. However, they are not created by machines, but by particularly competent, committed and creative employees. The best way to win and retain them is through a highly trusting and inspiring cooperation. The award for Best Employer in NRW impressively confirms that we are on the right track in our efforts to create a trusting and appreciative cooperation between superiors and employees.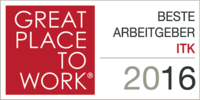 Great Place To Work – Beste Arbeitgeber ITK
Information and communication technology will become increasingly important in the future. It is therefore of particular importance in this sector to find, promote and retain qualified specialists and executives. For this reason, the satisfaction of our employees is particularly important to us. We are convinced that attractive working conditions lead to greater success and are pleased to be able to convincingly demonstrate this idea to applicants and customers by presenting this award.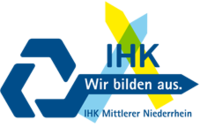 IHK Seal for an excellent quality of training
The IHK seal 'Wir bilden aus' (We train) is awarded by the IHK Mittlerer Niederrhein and stands for a special commitment of companies in vocational training. It acknowledges the excellent quality of the training we provide.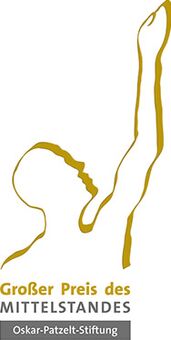 Großer Preis des Mittelstandes
The-Oskar-Patzelt-Foundation annually awards the 'Großer Preis des Mittelstandes' (Grand Prix of Medium-Sized Businesses) to medium-sized companies throughout Germany that are particularly committed to the following criteria in their entirety
1. Creation/securing of jobs and training places
2. Modernisation and innovation
3. Commitment in the region
4. Service and customer proximity, marketing
The months of waiting and hoping are over and now it is official! We were awarded on September 28th 2019 in the Maritim Hotel in Düsseldorf as winners of the "Großer Preis des Mittelstandes" honoured in a festive setting.

VDE
The VDE (Association for Electrical Engineering Electronics Information Technology) is a unique network of over 36,000 members from leading companies in the electrical industry and electricity sector, as well as small and medium-sized high-tech companies and numerous research institutes. "VDE develops the ideals for a future that is created here and now - in a unique association of research, science, industry, security and education." (VDE, 2019). We, as a member of VDE, are shaping a new future for all with ideals - electrical and digital!

Bundesamt für Sicherheit in der Informationstechnik
With the Alliance for Cyber Security, founded in 2012, the BSI is pursuing the goal of strengthening Germany's resistance to cyber attacks. As one of currently 2806 partners of IT service providers, consulting companies and manufacturers, we also benefit from the extensive exchange of expertise and application experience.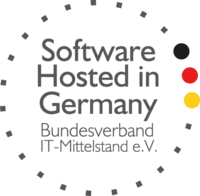 Bundesverband IT-Mittelstand
The Software Hosted In Germany seal distinguishes software that takes the following criteria into account:
The software and data are hosted in a data center in Germany
The software and personal data do not leave Germany, unless the customer requests this
The use of services that transfer non-personal data abroad must be clearly indicated to the user or the client
The hosting contract is exclusively subject to German law, in particular German data protection law, the BGB and the HGB
The companies awarded the Software Hosted In Germany seal are subject to the current standard of their technical and organisational measures with regard to data protection (see § 9 BDSG) at BITMi e.V.
Statista GmbH und FOCUS Online Group GmbH
Statista und FOCUS annually select Germany's fastest growing companies. From the approximately 3.5 million companies represented in the business register, Statista filtered out the most promising 11,500 companies in 2018 and invited them to participate in the "Growth Champions 2018". In the end, the 500 companies with the highest turnover growth in the years 2013 to 2016 made it into the evaluation. We were allowed to enter.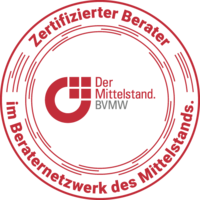 Der Mittelstand. BVMW
Pix Software received the approval as BVMW-certified consultant for medium-sized companies and was thus included in the consultant network of medium-sized companies. The seal not only guarantees the professional qualification, but also ensures that a consultant is sufficiently familiar with topics and general conditions relevant to medium-sized businesses. It serves companies as an orientation aid in the search for consultants.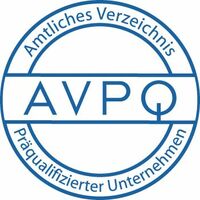 AVPQ
Pix Software has been registered by the IHK Mittlerer Niederrhein as a suitable company for public contracts in the official register. As a prerequisite for the registration, the company was prequalified by the Chamber of Industry and Commerce Mittlerer Niederrhein. Companies that are interested in public tenders must prove that they are suitable, i.e. efficient and reliable, independent of the contract. There must be no grounds for exclusion and an examination is often time-consuming due to the large number of documents and declarations. A prequalification saves time and resources for the contracting authorities and creates legal certainty.